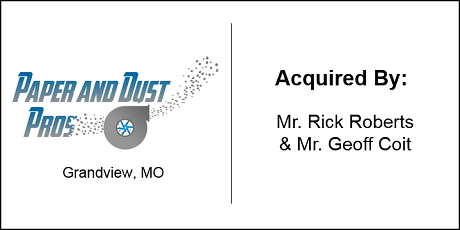 Location:
Grandview, MO
Industry:
Manufacturing Equipment
The DVS Group Role:
Sellside Advisory
The Company:
Paper and Dust Pros consults, designs, and installs air-conveyed solutions for manufacturing businesses. They work with businesses requiring collection and storage systems for their operation's paper-related scraps, or sawdust, smoke, mist, fumes.
Many of Paper and Dust Pros' customers include printers, document destruction companies, packaging manufacturers, metal fabrication shops, and wood shops.  Paper and Dust Pros provides a unique Air Product Separator (APS) unit to their customers that keeps facilities clean and safe.
The Deal: 
John Prouty sold the company to two members of the management team, Rick Roberts and Geoff Coit. He will remain at the company for a transition period.