Buying a business is no easy task. When you make an acquisition there are real consequences for you and your entire team.
Before you set off down the road in pursuing an acquisition you should address the following five questions. Questions one and two are particularly vital and often overlooked.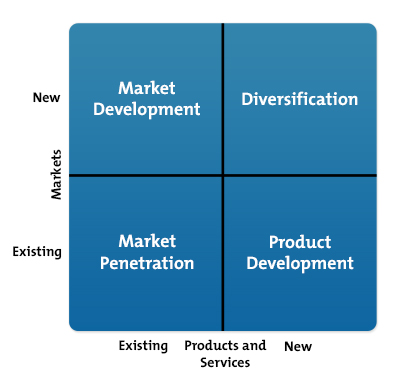 1. What are the team's goals? What does an acquisition accomplish for the business?
Every business wants to grow, so what kind of growth needs to occur for your business's success and what types of companies meet that need?
Do you know how to define success?
Ansoff's Matrix – a tool for sustainable growth – will be of great help in clarifying those things. Complete this exercise with your internal leadership team and your board. This will equip you with a guiding "Why" for the acquisition process.

2. Who is the point person? Who is/are the decision-maker(s)?
The answer gained from this matrix will be different for every company. One of our current clients is seeking an acquisition that would provide the same service in a new geography. Our past client HMS Health sought product development. Lighthouse for the Blind desired market development.
Identify a point person so that everyone knows who they should go to with questions.
This point person needs to be an internal champion of the acquisition process who accepts accountability for its progress.
With a leader in place, the process will have clarity and the team can trust that tasks are being completed because roles are indicated.
This is especially important when the rubber meets the road – when an LOI is signed and a closed deal is in sight. If an internal process for communication and decision-making is not in place when things are getting real, your fumbling could kill the deal.
3. What is your financial position?
In other words, what is the amount of cash available for a purchase?
How much debt are you willing to incur?
What sort of valuation range and structure do you desire in the purchase?
Think about your own ideal scenario, understanding that of course no deal works out perfectly. Consider how will you judge the financial success of the acquisition.
4. Who's in your management reserves?
An acquisition often means a shuffling of job titles and a shift in some teammates' energy.
Who is currently ready to be plugged into the new roles?
Decide who could and who could not step up to contribute in new ways.
5. What are the specifications of your target companies?
What industries and geographies are attractive?
What size are you considering and what can you afford?
While some of these considerations will be new, others will flow directly out of your use of Ansoff's Matrix.
—
P.S. When we sign a corporate buy-side client, we have them fill out this workbook to gain insight into what we should and shouldn't target for their acquisition. Take a peek and use it for your own acquisition goal clarification.